Sept. 23, 2009:
Clarkdale Elementary School was inundated with floodwaters Monday afternoon after students were safely evacuated. On Tuesday afternoon, the main school building remained substantially under water.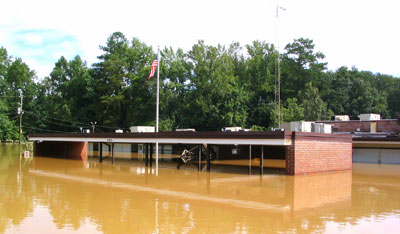 The September 2009 contingency plan for Clarkdale involves creating space at nearby Austell Intermediate and Compton Elementary schools. Austell Intermediate School will host 225 students in grades 3-5, while Compton Elementary School will host 217 students in grades K-2. Furniture and materials from the district's warehouse will be installed in available classrooms on Wednesday. Some Clarkdale classes will be combined in order to maximize available space. Above is a photo of Clarkdale Elementary taken Tuesday afternoon.
For more information, please visit the school's website online at:
http://www.cobbk12.org/Clarkdale/
Clarkdale Elementary

There will be an informational meeting tonight at Ewing Road Baptist Church, 4699 Ewing Rd Austell GA 30106, at 7:00 September 23, 2009.
Stay tuned to local TV and radio stations for a decision regarding school tomorrow.
We are eagerly awaiting the arrival of your children! Your children will be with the same teacher as before.
Please be assured that we will take very good care of your children!
Clarkdale administrators will be at both sites and can answer any questions that you may have.

2009 Temporary Transportation Plan

Morning
All 7 Clarkdale bus runs start at their first pick-up at 6:30 a.m..
Clarkdale walkers will be added to existing Clarkdale Run 7.
Drop 3rd-5th graders at Austell Intermediate early.
Buses continue on to Compton Elementary School for K-2 drop off from approximately 7:20 – 7:30 a.m..
Buses proceed to high school routes.
Afternoon
All 7 Clarkdale buses depart 2:15 p.m. from Austell Intermediate.
Sibling students in After School Program will load onto Clarkdale buses for ride to Compton's After School Program.
Buses will proceed to Compton Elementary to pick-up K-2 students for afternoon runs and drop off sibling ASP students.
Buses will drop at Clarkdale afternoon stops at regular route time and proceed to high school routes.